Lash Lift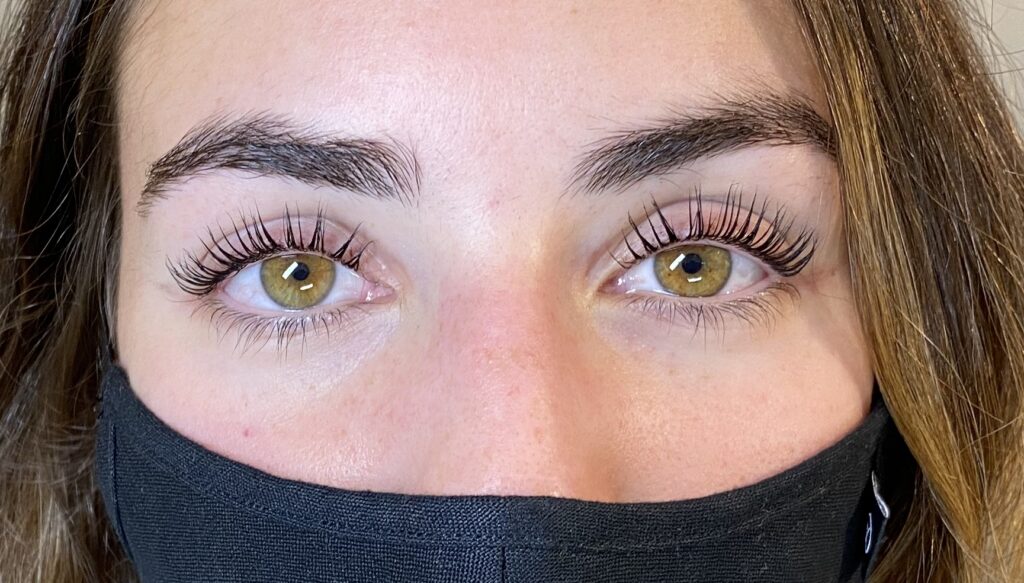 Tired of struggling with a lash curler every morning, only to have your lashes start drooping down a few hours later? A lash lift might be the perfect solution for you! Lash Lifts have made their way to the spotlight in the last few years, and we couldn't be more excited about them! We're answering all your questions about lash lifts to put your mind at ease and get you as excited as we are!
What is a Lash Lift?
A lash lift uses a silicone rod and a two-step cream solution to lift and curl your natural lashes in an upward, lifted position. The result is a brighter, more awake look, making lashes appear longer and fuller.
Am I a good candidate for a lash lift?
If your natural lashes are super short, sparse, or very fine, we recommend lash extensions over a lift. A lash lift works with your own natural lashes, so it won't fill in gaps or add volume. On the other hand, if lashes are average or long in length, straight, down-turned, or overly curly, a lash lift is the perfect low-maintenance service for you! A lift helps your natural lashes reach their full potential, so if you've already got the length, the lift showcases all those luscious lashes.
Is a lash lift safe?
Yes! The lift solution never touches your skin and your eyes are kept closed for the duration of the treatment. We use Elleebana Lash Lift, which is one of the most recommended brands for lift treatments. We take great care in making sure the solution only touches the base of your lashes, to avoid over-processing or damaging the tips. We also recommend waiting at least 6 weeks in between lifts to avoid over-processing the lashes. This allows time for the natural growth cycle of our lashes, so we aren't lifting the same set of lashes that we already did.
Does it hurt?
No! This is a pain-free service. Of course, if you feel any irritation at all, please let your esthetician know right away to remedy the situation. If you have a history of allergic reactions to makeup or adhesives, a complimentary patch test is recommended prior to the service. We will test the adhesive and the lift solutions on your skin, to ensure a safe and pleasant treatment for you.
How long does the lash lift take?
A lash lift takes approximately 45 minutes. One hour if you pair it with a beautiful tint to darken and enhance lighter lashes.
What should I do before coming in for a lash lift?
Please come in with no eye makeup. Makeup residue could prevent the lift solution from working properly.
Are lash lifts high maintenance?
No! Lash lifts last an average of 6-8 weeks. Keep in mind that you may notice new growth coming in after several weeks as part of your normal growth cycle. You will need to keep your lashes dry and free of makeup and oily products for the first 24 hours after the treatment. Avoid rubbing your eyes and sleeping on your face while you have a lash lift. After the first 24 hours, you are free to wear makeup, wash your face, or go for a swim. Lashes will stay lifted and gorgeous!
What is Lash Botox?
"Lash Botox" is an add-on treatment to a lash lift to deep condition your natural lashes. Lift solution can be drying to our hair, so adding a conditioning treatment every now and then helps to boost the elasticity and keep the follicle healthy and hydrated. Using a brow growth serum, like LiBrow, is also a great way to continually keep lashes hydrated and healthy even after the service is complete.
We hope we answered all your lash lift questions! As always, you can call our friendly front desk team to answer any further questions you may have or to book your appointment. We hope to see you soon!