Four Tips for Summer Lash Care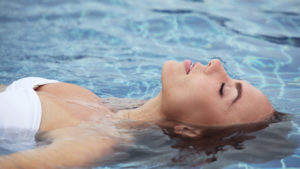 Welcome to the makeup-free zone. AKA summer – the season of fresh faces. But as you hop from pool party to beach BBQ, batting those  long lashes, you're also dealing with some unwanted guests that accompany the heat. Think humidity, oily sunscreen, chlorinated water. All can wreak havoc on your lash extensions.
Show them a little extra TLC with these four top tips for healthy lash extensions during the summer.
Sunscreen is definite summer necessity for good skin, but oily formulas can shorten your lashes' lifespan. Avoid getting sunscreen on your lash extensions, and instead opt for sunglasses that offer UV/UVB protection. Note: if a pair of sunglasses doesn't have a UVA/UVB label on them, consider them for fun not for sun.
A lap in the pool might be refreshing for your body, but it's a worrisome past time for your lash extensions. Excessive exposure to chlorine can break down adhesive, so protect that flirty fringe. When swimming in a pool, wear a set of goggles. And, of course, you should avoid  swimming in the first 24 hours following any new lash application.
Summer is all about natural breezy looks, so opt for shorter length extensions. This doesn't mean you have to forego the glam. Ask for your lash expert to make your lashes fuller with a higher number of lashes.
Whether you're rubbing eyes from sweat or toweling off from a dip, you're touching your eyes more during the hotter months. Also with all of our outdoor activity comes a healthy uptake of Vitamin D. Translation: Your lashes grow faster in the summer, so turnover might be more noticeable. Getting refills every two weeks instead of three to four weeks will keep lashes lush.
Keeping an eye on how you treat your lashes during the summer will make all the difference. Happy summer!